MASS-VIEW® MASS FLOW METERS / REGULATORS / CONTROLLERS WITH LOCAL DISPLAY
The High-Tech replacement for VA meters
The innovative MASS-VIEW® flow meter series are a digital alternative to the conventional VA meters (variable area meters) or purge meters. The MASS-VIEW® flow meter series incorporates a digital bar graph of actual gas flow, which is, thanks to the OLED (organic light emitting diode) technology, clearly visible from all angles, as well as indicating flow units, gas type and totalised figures. In addition to the flow meters for flow monitoring applications, flow regulators and controllers are equipped with an in-built needle valve for manual control of the gas flow. As an extra feature, the flow controller is equipped with a pressure compensation membrane, eliminating the effects of upstream pressure variations.
The MASS-VIEW series is designed to mimic the straightforward features and vertical format of the VA meter, but with the considerable added benefits of an electronic output signal, high measuring accuracy, virtual independence from gas temperature and pressure variations, freedom from parallax error and inherently safe construction, by eliminating fragile glass components in the flow path.
MASS-VIEW® meters and regulators
Lowest range 0...0,2 ln/min
Highest range 0...500 ln/min
MASS-VIEW® controllers
Lowest range 0...0,2 ln/min
Highest range 0...50 ln/min
* ln/min equals SLM at 0°C and 1 atm(STP)
---
Features
Clear indication in:

actual flow rate (bar graph and value)
desired flow units
type of gas
totalized flow

Bright, wide-angle OLED display
Free of parallax errors
Virtually independent of pressure and temperature variations
Low pressure drop
Wide flow ranges
Fast response
High accuracy
Alarm and counter functions (2 alarm contacts available on meters)
Analog (0..5 Vdc) and digital communication (Modbus-RTU/ASCII, RS-232 interface)
Configurable password protection
10 pre-installed gases available (Air, N2, O2, Ar, CO, CO2, CH4, C3H8, C4H10, N2O) or H2 or He
4 selectable ranges (100%, 50%, 25% and 10% of maximum full scale range)
Digitally calibrated
Video MASS-VIEW Mass Flow Meter / Regulator
In this video Mass Flow ONLINE, a business unit of Bronkhorst High-Tech, the market leader in the field of thermal mass flow meters and controllers, presents the operation of the MASS-VIEW series Thermal Mass Flow Meters, Regulators and Controllers employing the direct through flow measurement technique.
---
---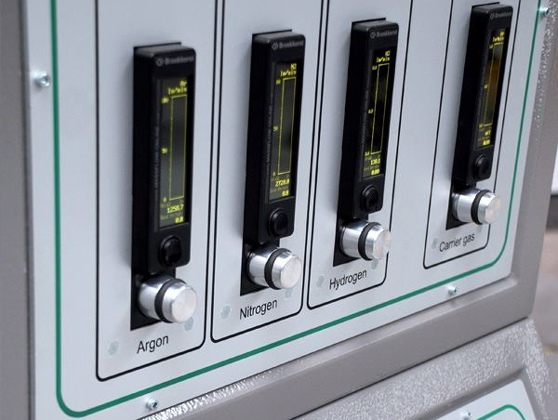 Applications
Burner control (furnace construction)
Welding (welding gas monitoring)
Leak measurements (quality, environment)
Coating (equipment construction)
Regulation of gaseous atmospheres (biotechnology)
Measurement of gas consumption (hospitals)
Test equipment (production maintenance)
Local preparation of a gas mixture
Flow rate monitoring (laboratories)
Cutting (steel sheets)
Analytical equipment
Aeration / sparging (food products, ice cream / edible oils)
Blanketing (food)
Fermentation (food, biotechnology, pharma)


Application story
Quick link to Mass Flow Meter / Regulator / Controller model pages
Mass Flow Meter model pages
Full Scale capacities versus pressure rating and gas type
| PN 10 bar - Hydrogen | PN 10 bar - Helium | PN 10 bar - Other gases |
| --- | --- | --- |
| MV-191-H2 | 50 ... 200 mln/min H2 | MV-191-HE | 50 ... 200 mln/min He | MV-101 | 50 ... 200 mln/min N2-equivalent |
| MV-192-H2 | 100 ... 1000 mln/min H2 | MV-192-HE | 200 ... 2000 mln/min He | MV-102 | 200 ... 2000 mln/min N2-equivalent |
| MV-194-H2 | 1 ... 10 ln/min H2 | MV-194-HE | 2 ... 20 ln/min He | MV-104 | 2 ... 20 ln/min N2-equivalent |
| MV-196-H2 | 10 ... 100 ln/min H2 | MV-196-HE | 10 ... 100 ln/min He | MV-106 | 2 ... 200 ln/min N2-equivalent |
| | | MV-108 | 50 ... 500 ln/min N2-equivalent |
Mass Flow Regulator model pages
Full Scale capacities versus pressure rating and gas type
| PN 10 bar - Hydrogen | PN 10 bar - Helium | PN 10 bar - Other gases |
| --- | --- | --- |
| MV-391-H2 | 50 ... 200 mln/min H2 | MV-391-HE | 50 ... 200 mln/min He | MV-301 | 50 ... 200 mln/min N2-equivalent |
| MV-392-H2 | 100 ... 1000 mln/min H2 | MV-392-HE | 200 ... 2000 mln/min He | MV-302 | 200 ... 2000 mln/min N2-equivalent |
| MV-394-H2 | 1 ... 10 ln/min H2 | MV-394-HE | 2 ... 20 ln/min He | MV-304 | 2 ... 20 ln/min N2-equivalent |
| MV-396-H2 | 10 ... 100 ln/min H2 | MV-396-HE | 10 ... 100 ln/min He | MV-306 | 20 ... 200 ln/min N2-equivalent |
| | | MV-308 | 50 ... 500 ln/min N2-equivalent |
Mass Flow Controller model pages
Full Scale capacities versus pressure rating
PN 10 bar
MV-401 | 50 ... 200 mln/min N2-equivalent
MV-402 | 200 ... 2000 mln/min N2-equivalent
MV-404 | 2 ... 20 ln/min N2-equivalent
MV-405 | 5 ... 50 ln/min N2-equivalent
---
---
---